Atlas Pro Audio Blog
Posted by Atlas Pro Audio on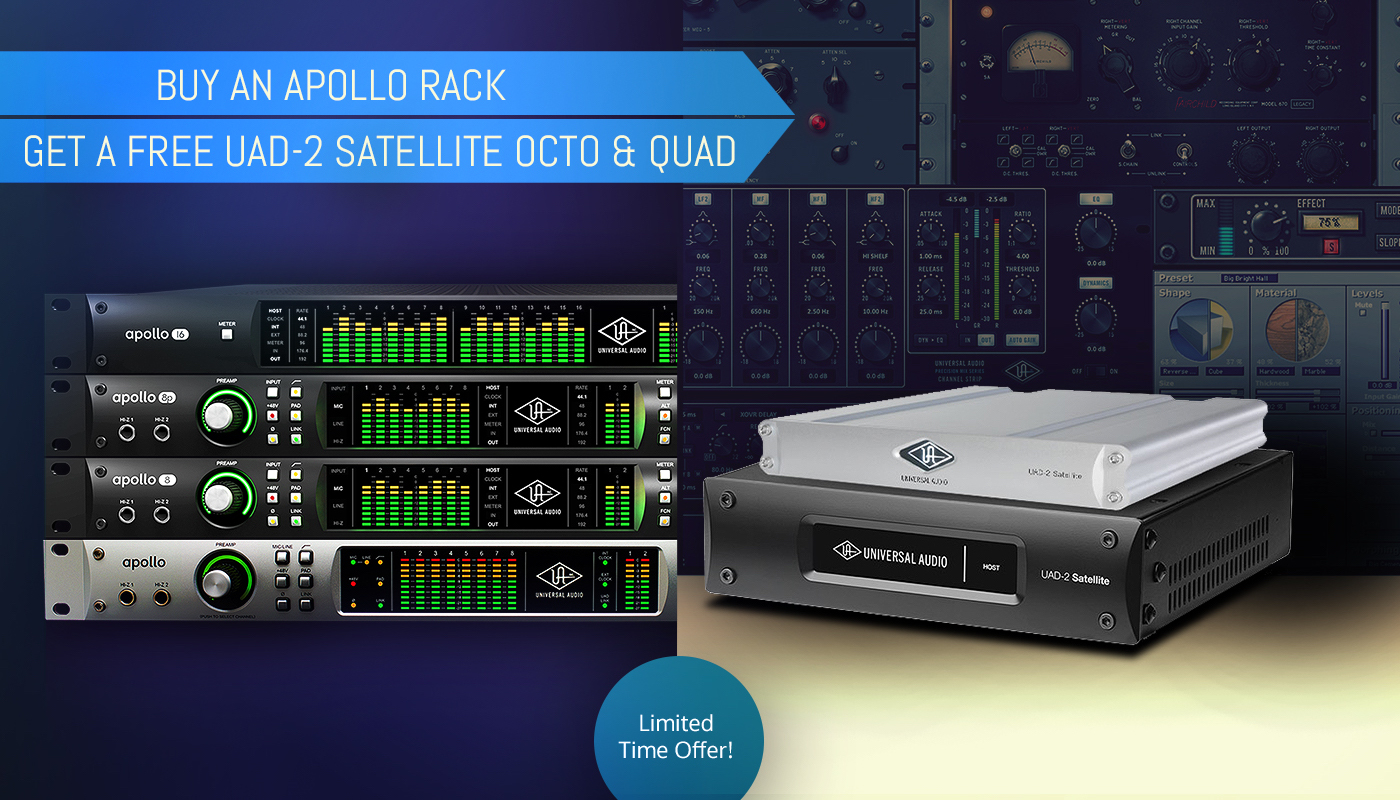 http://www.atlasproaudio.com/brands/Universal-Audio-Apollo.html
From October 1st through December 31st, customers who buy and register any new Apollo rackmount interface (Apollo 8, Apollo 8p, Apollo 16, or Apollo FireWire) will get a FREE UAD-2 Satellite as follows:

Buy an Apollo 8p or Apollo 16 Audio Interface
Get a free UAD-2 Satellite Thunderbolt OCTO DSP Accelerator
Buy an Apollo 8 DUO or QUAD Audio Interface
Get a free UAD-2 Satellite Thunderbolt QUAD DSP Accelerator

Buy an Apollo FireWire Audio Interface
Get a free UAD-2 Satellite FireWire DSP Accelerator
We're releasing brand new APA Juggernaut 500 series mic pres in two varieties!Now you can order the APA Juggernaut 500 Fe or the Juggernaut 500 Ni:The Fe features our Custom Iron Output TransformerThe Ni features our Custom Nickel Output TransformerNew Faceplate Design!Both have switchable input transformers and all other features remain the same. The new change [...]
We at Atlas Pro Audio will most likely be effected by Hurricane Irma once the storm approaches Central Florida, which is predicted to occur Sunday and Monday. If we are unable to answer phones or emails it is most likely due to a power and communication outage. If you are trying to get a hold [...]
Purchase any Mojave microphone from Atlas Pro Audio from September 1 through September 30 and enjoy 10% off instantly, including matched pairs! Prices are as marked. MA-1000: $2,795 Sale Price: $2,515MA-50: $495 Sale Price: $445 MA-200 $1,095 Sale Price: $985 MA-300: $1,295 Sale Price: $1,165 MA-201fet: $695 Sale Price: $625 MA-301fet: $895 Sale Price: $805 [...]
Due to popular demand, we've extended our Apollo Dream Studio Promotion! Now through September 30th, customers who purchase any award-winning Apollo rackmount audio interface will be eligible for up to $3,500 of premium UAD plug-ins from Studer, Lexicon, AKG, Pultec, Fairchild, Teletronix, and more!http://www.atlasproaudio.com/deals-promotions/limi...
We've added two new product bundles that are sure to be a hit, our first bundle is the High End Summing Bundle:http://www.atlasproaudio.com/atlas-pro-audio-16-x-...Atlas Pro Audio - 16x2 Summing BundleStereo Mic Pre with 16 Channel Summing MixerWith our 16x2 Summing Bundle you can mix outside the box with the highest quality. We've bundled our most flexible and [...]
Get 10% off select gear from these brands at Atlas Pro Audio!Hurry, sale ends 8/17/17.Discounted Prices are as marked!Black Box Analog Design10% off the HG-2! Highland Dynamics10% off BG-2!Inward Connections10% off all Inward Connections products!Mesanovic Microphones10% off the Model 2!Overstayer Recording Equipment10% off all Overstayer products!Shadow Hills Industries10% off all 500 Series products!Spectra Sonics10% off [...]
New Warm Audio WA-14 Condenser Microphones Now in Stock at Atlas Pro Audio!Only $499 Each!http://www.atlasproaudio.com/warm-audio-wa-14/Introducing the WA-14 Large Diaphragm Brass Capsule Condenser Microphone. Based on the classic condenser microphone that has been used on countless hit records. The WA-14 utilizes classic circuit topology, including the coveted all-brass CK12 capsule design and a custom premium CineMag [...]
EXTENDED UNTIL 8/31/17!You won't want to miss this special promotion. From now until 8/31/17 when you purchase any qualifying UA product from Atlas Pro Audio you will receive free UA Plug-ins! You can save up to $3500 in Free Plug-Ins. There are three different Dream Studio plug-in bundles depending on your Apollo rackmount purchase. [...]
Purchase a Universal Audio 6176 Vintage Channel Strip from Atlas Pro Audio between July 1st and September 30th, 2017, and receive a UAD-2 QUAD DSP Accelerator — your choice of PCIe Card or Satellite (Thunderbolt, USB, or FireWire) — with the included Analog Classics Plus UAD plug-in bundle — absolutely free*!Hurry, offer ends September 30th.*Fulfillment [...]